Program 8: The Fin de Siècle
Song: Mirror of the World Radio Series
Program 8: The Fin de Siècle
Framed by the innovative songs of Charles Ives, this program explores the decadent and tumultuous years surrounding the turn of the 20th century. From a somber work by Brahms to an erotic song by Debussy and a bitter reaction to war by Korngold, song paints a picture of the worldwide unrest that was starting to take hold.
Listen to the full program:
Host & Artistic Director:
Thomas Hampson
Co-Produced by the Hampsong Foundation and The WFMT Radio Network
Production Team:
Executive Producers: Thomas Hampson & Steve Robinson (The WFMT Radio Network)
Audio Producer: Carolyn Paulin (The WFMT Radio Network)
Coordinating Producer: Miriam Lewin
Project Manager: Christie Finn
Writer for The Fin de Siècle: Sheila Gaffney, freelance radio and screenwriter
Song listings with composer / poet, performers, CD label, and CD number are listed below.
Lieder: Ives, MacDowell, Griffes (1991)
"Feldeinsamkeit" (1900)
Composer: Charles Ives (1874-1954)
Text: Hermann Allmers (1821-1902)
Thomas Hampson, baritone
Armen Guzelimian, piano
Famous Voices Of The Past – William Warfield
"Denn es gehet dem Menschen," from Vier ernste Gesänge (Four Serious Songs), Op. 121, No. 1 (1896)
Composer: Johannes Brahms (1833-1897)
Text: Ecclesiastes
William Warfield, bass-baritone
Otto Herz, piano
Notturno: Songs by Richard Strauss
"Traum durch die Dämmerung," from Drei Lieder, Op. 29 (1895)
Composer: Richard Strauss (1864-1949)
Text: Otto Julius Bierbaum (1865-1910)
Thomas Hampson, baritone
Wolfram Rieger, piano
Deutsche Grammophon: 0289 479 2943 7
Maggie Teyte: French Art Songs (1936)
"La chevelure," from Chansons de Bilitis (1897-8, published 1899)
Composer: Claude Debussy (1862-1918)
Text: Pierre Louÿs (1870-1925)
Maggie Teyte, soprano
Alfred Cortot, piano
Global Village Music
To the Soul
"To the Soul" (1906)
Composer: Charles Stanford (1852-1924)
Text: Walt Whitman (1819-1892)
Thomas Hampson, baritone
Craig Rutenberg, piano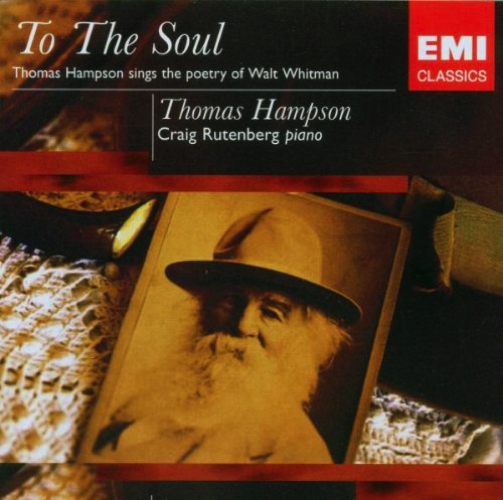 Vaughan Williams: Songs Of Travel, etc.
"Silent Noon," from The House of Life (1903)
Composer: Ralph Vaughan Williams (1872-1958)
Text: Dante Gabriel Rossetti (1828-1882)
Benjamin Luxon, baritone
David Willison, piano
Lebendige Vergangenheit – Rose Bampton
"When I Bring You Colour'd Toys," from Gitanjali: Song Offerings (1914)
Composer: John Alden Carpenter (1876-1951)
Text: Rabindranath Tagore (1861-1941)
Rose Bampton, soprano
Wilfred Pelletier, piano
Lieder: Ives, MacDowell, Griffes (1991)
"Auf geheimem Waldespfade" ("By a Lonely Forest Pathway") (1909)
Composer: Charles Griffes (1884-1920)
Text: Nikolaus Lenau (1802-1850)
Thomas Hampson, baritone
Armen Guzelimian, piano
Bernstein Century – Mahler: Lieder
"Blick mir nicht in die Lieder" ("Don't Look at my Songs"), from Rückert Lieder (1901)
Composer: Gustav Mahler (1860-1911)
Text: Friedrich Rückert (1788-1866)
Dietrich Fischer-Dieskau, baritone
Leonard Bernstein, piano
The Glenn Gould Edition – Schoenberg: Lieder
Am Strande" ("On the shore") (1909)
Composer: Arnold Schoenberg (1874-1951)
Text: Rainer Maria Rilke (1875-1926)
Helen Vanni, soprano
Glenn Gould, piano
Susan Graham at Carnegie Hall
"Traumgekrönt" ("Crowned by a Dream"), from Sieben frühe Lieder (Seven Early Songs) (1905-8)
Composer: Alban Berg (1885-1935)
Text: Rainer Maria Rilke (1875-1926)
Susan Graham, mezzo soprano
Malcolm Martineau, piano
Korngold: Lieder
"Gefasster Abschied" ("Austrian Soldier's Song of Farewell"), from Vier Lieder des Abschieds (Four Songs of Farwell) (1915, revised 1920-1)
Composer: Erich Korngold (1897-1957)
Text: Ernst Lothar (1890-1974)
Dietrich Henschel, baritone
Helmut Deutsch, piano
The American Composers Series: Love's Secret and Other Songs by American Composers
"General William Booth Enters into Heaven" (1914)
Composer: Charles Ives (1874-1954)
Text: Vachel Lindsey (1874-1931)
Donald Gramm, baritone
Richard Cumming, piano