Song Settings of Poetry by Walt Whitman
The American poet Walt Whitman (1819-1892) inspired hundreds of composers to set his verse.
For the Bard of Democracy, as America came to call our great poet, music was a central metaphor in his life and work, both as a metaphysical mindset and as a practical reality. Whitman was blessed with an extraordinary ear for inner rhythms which he then articulated in the radically free, rolling, thrusting verses which revitalized the entire world of poetic language. That same ear led him to the appreciation of classical music. For the poet this was a largely self-taught quest in which he relied on both his innate musicality and his experience as a music journalist to formulate aesthetic principles that would carry over into his poetry. Walt Whitman caroled throughout his verse, song was the language of the soul, and the act of writing poetry was to carol his nation's soul.
This project includes song texts from Thomas Hampson's album To the Soul, two essays about Walt Whitman, a Whitman biography and timeline, and more!
To the Soul
Thomas Hampson, baritone
Craig Rutenberg, piano
Recorded: 1993 & 1994 / Album Release: 1997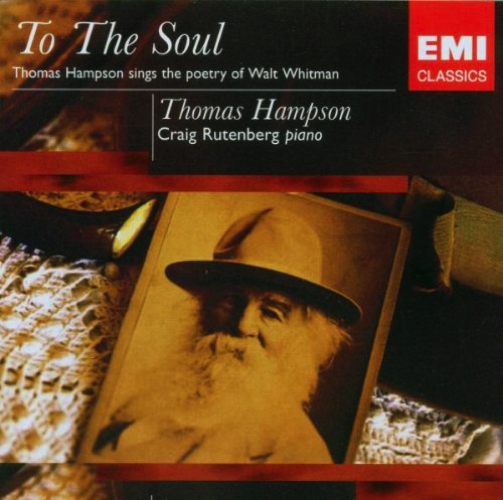 I sing...the body electric, a song of myself, a song of joys, a song of occupations, a song of prudence, a song of the answerer, a song of the broad-axe, a song of the rolling earth, a song of the universal...

Walt Whitman
More Information
Song of America: Walt Whitman
Learn more information about Walt Whitman, his life and musical settings of his poetry here!
Visit site
Song of America Radio Program:
"Song of Walt Whitman"
With music built deep into his poetry, it's no surprise that Whitman has been a beacon for American composers.
Visit site
Resources included in or related to this project:
"Joy, Shipmate, Joy!"
Thomas Hampson sings Ralph Vaughn Williams's Walt Whitman setting "Joy, Shipmate, Joy!" as part of the special concert "Water: A Musical Celebration of America's Heartland and Heart" with pianist Vlad Iftinca
Composers! Mighty maestros!


And you, sweet singers of old lands,

soprani, tenori, bassi!


To you a new bard is caroling in the West,


obeisant sends his love.

Walt Whitman, "Proud Music of the Storm" from Leaves of Grass